Weekly Bible Study
Every 2nd & 4th Thursday, 10:30am
Starting "Women in the Bible and Me" on Thursday, February 9. All ladies are welcome to attend!
Runs until June 22.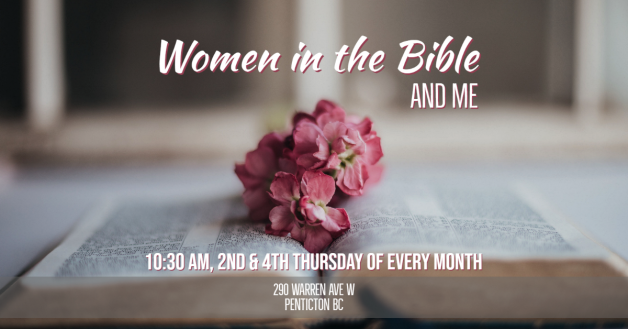 ---
Upcoming Events
Sunday, April 2, 10:30am: Easter Baskets
We will meet in the church fellowship hall to make Easter baskets/bags for our church shut-ins and singles. Mary Ann is our lead for this event. Contact her with your favourite cookie recipe that you would like to bring the ingredients for and we will have a great time in the kitchen. For those not interested in the baking we will have tables set up for card making and decorating of the Easter bags.
Friday, April 21–Sunday, April 23: BC Conference Women's Ministry Spring Retreat
Mark your calendars for a retreat at Tigh-Na-Mara in Parksville, BC. The theme is "God's Upside-Down Kingdom", with guest speaker Sue Clayville from Oregon. For more information or to register, go to bcadventist.ca/ministries/womens-ministry, or contact Mary Pillai at 604.853.5451 x105. Deadline for room booking at Tigh-Na-Mara is Wednesday, March 22. Deadline for conference registration is Wednesday, April 12.
Sunday, May 7, 2:30pm: Spring Time High Tea
Come for a High Tea potluck at Phylis and Sandy's! Be sure to bring your favourite tea cup and a story as to why it is your favourite. This is a chance to dress up in your favourite spring time dress and hat. There will be a prize for the best decorated hat, so have some fun with it!
Thursday, June 22, 10:30am: Picnic at Sun-Oka Beach
This will be our last get together before our summer break. We will have our study on Lydia under the trees at the beach, and then finish off our time with a potluck.